Onion juice is rich in vitamin A, antioxidants, and sulfur, (1) all of which can benefit your hair in different ways. No wonder it has emerged as a popular hair remedy all over Internet forums and is now widely used in commercial hair products.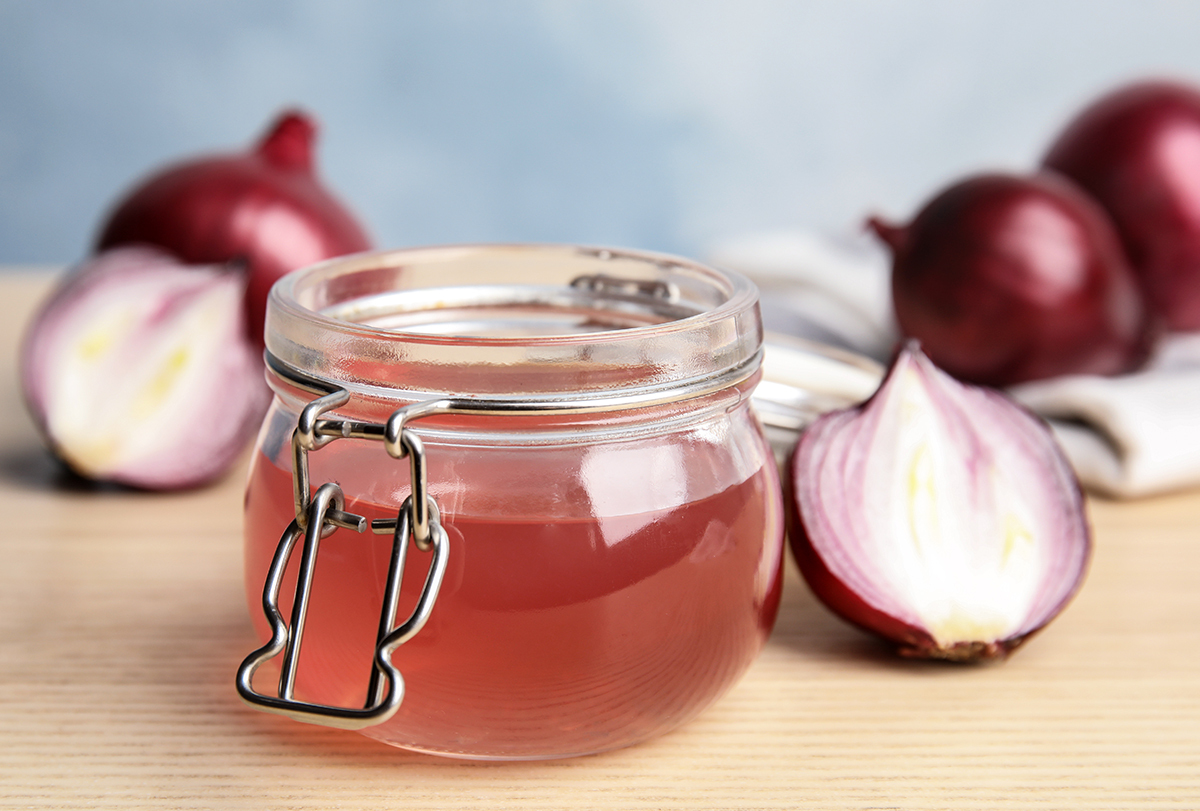 However, no ingredient is a magic bullet that can singlehandedly transform your hair health. It has to be used properly in a consistent hair care regimen to make a difference.
Proper use of onion juice implies applying it in the recommended amount (not too much), for the recommended duration (not too long), and for the recommended number of times (not too frequently). Plus, you must be equally mindful about rinsing it out of your hair once you are done.
Unfortunately, a lot of people get carried away with the praise attached to such remedies and end up overusing them to their own disadvantage. The same holds for onion juice.
Side Effects of Onion Juice on Hair
Onion juice is good for your hair, but only when applied properly. Using it in excessive amounts, too often, or for prolonged periods can worsen your hair and scalp problems by triggering the following side effects:
1. Onion juice may trigger hair loss
The heavy amount of sulfur (2) found in onion juice can dry out your scalp by stripping its natural lipids. This is mostly the case when it is used regularly or copiously or is not rinsed out properly after application. As a result, the scalp becomes irritated and itchy, leading to incessant scratching.
Rubbing your sharp nails against the sensitive scalp skin can rupture it and pave the way for infections. Scalp infections can permanently destroy your hair follicles, leading to irreversible hair loss.
2. Onion juice may cause scalp eczema
Onion juice contains sulfur, which is a crucial active element in hair development. (3) However, too much of it can deplete the natural oil from your scalp and render it extremely dry, itchy, and irritated.
Repeated or extensive use of this remedy can pave the way for scalp eczema, especially in people with an already-dry scalp. This condition is marked by acute (dry, itchy, and scaly scalp) and chronic (scalp inflammation, redness, discharge, and pain) that flare up time and again. (4)
3. Onion juice may irritate the eyes
Getting even a drop of onion juice in your eyes can make them sting, burn, and turn red on account of its pungent sulfuric fumes. (5)
Given its runny consistency, you have to be very careful when applying it to your hair and scalp to avoid dripping. It's best to wear a shower cap after application to seal it in.
If used excessively, onion juice, especially its smell, could be strong enough to make your eyes water.
4. Onion juice has a strong unpleasant smell
Onions have a strong and intense odor that may stick to your hair and scalp even after shampooing. (6) Too much shampooing is counterproductive as it strips the moisture from your hair and scalp and thereby undoes all the benefits of the remedy.
Instead, you will have to bear with the smell and wait for it to dissipate on its own.
Note: Before applying onion juice to your hair, always patch test it on a small area of the skin to make sure you are not allergic to it.
Hair Benefits of Onion Juice
Onion juice can improve your hair quality in the following ways:
Onion juice stimulates blood circulation in the scalp, delivering more nutrients and oxygen to the hair follicles. Well-nourished hair follicles will, in turn, produce healthier, stronger hair at a faster rate.
Onions are loaded with sulfur, (7) a vital mineral that helps activate dormant hair follicles and prolong the growing period of the hair. This aids in increasing both the volume and length of your hair. Plus, sulfur is an essential component of the hair-building protein called keratin. Thus, onion juice adds strength and elasticity to your hair so that it doesn't break easily.
Onions contain catalase, (8) an antioxidant enzyme that helps retain your hair's natural color. A deficiency of catalase can trigger premature graying of hair. (9) Once the hair loses its color, it tends to become weaker and is more likely to fall out of the follicle. Regularly applying onion juice can help prevent this problem by supplying catalase to your hair follicles.
Is It Possible to Leave the Onion Juice in Your Hair Overnight?
Onion juice is extremely potent due to its rich sulfur content and can be too harsh for your hair and scalp if applied for long durations. As discussed earlier, sulfur helps make your hair stronger but also removes moisture from the scalp when applied for too long.
The ideal way to use this hair remedy is to leave it on for 15–30 minutes and then thoroughly wash it out with a mild shampoo and normal water. If your scalp is already too dry or sensitive, it's best not to use this remedy to avoid further inflammation and irritation.
Final Word
Many people are turning to onion juice in the pursuit of longer, stronger, more voluminous hair and for good reason. The market is flooded with overpriced hair products that rarely deliver on their promises. Plus, many of them contain chemicals that can damage your hair in the long run.
By contrast, onion juice provides a cheap, chemical-free alternative that is rather easy to make. Plus, the hair benefits attributed to onion juice carry some degree of scientifically backing, which is evident from its widespread use in hair cosmeceuticals. However, it is important not to overestimate the merits of any remedy, and the same goes for onion juice.
This hair remedy will work only when used properly and as part of a wholesome hair care routine. Onion juice is potent due to its high sulfur content, and so using it in large amounts or regularly will only harm your hair and scalp further.
Was this article helpful?